What Just Happened?
It's Called The Warning
Just like St. Paul in the picture above, we all recently "got knocked off of our horses." Suddenly, we saw all of the sins of our lives from our Creator's point of view. Understandably, it was a very traumatic experience for most people. What we do now is going to be very crucial in determining where we spend eternity. Please read on.
[Note: If you don't know what I'm talking about, then the Warning hasn't happened yet. I built this page BEFORE the warning for reference AFTER it happens.]
Contained in this page:

Letters Describing This and Upcoming Events

Spiritual Background and Prophecy

Please Send Me Any Questions You Have

In November of '97, I sent out a pre-warning letter detailing this and other prophesied events. Back then, when everything was still "normal," its contents sounded quite ridiculous. Now that the warning has happened, it has a bit more credibility. It is good to read and pass on.
I wrote a post-Warning letter, to be sent out immediately following the warning. It came from the prophetic sources that have been trying to get us to listen to our Heavenly Mother. It contains a wealth of valuable information, including prayers and meditations to insure we survive the terrible times directly in front of us. [Unavailable as of now.]

Spiritual Background and Prophecy

Links List

The Three Sources of Private Revelation

E-mail: bettergetready@hotmail.com
Snail mail:
If this site is loading too slowly, please see my mirror site.

The New World Order is a force largely misunderstood. The media's controlling interests have manipulated our collective understanding of precisely what goes on in international politics. As a result, we have been led to actively support the very beast that will be our executioner as a moral society.
The Antichrist is alive right now. He lives in London, England. Very soon, he will begin to manifest himself publicly. This man is very dangerous, mainly because he is so deceptively attractive. He will claim to be the very person of Jesus Christ, Mohammed, the Maitreya Buddah, the Avatar, etc. In short, he claims to be the 'ascended master' who was the primary spirit behind all of the world's religions. Soon, he will have what he calls his day of declaration. When this terrible event comes, he will appear on television all across the world at once. Simultaneously, he will exert his demonic powers over each person watching. Each will hear the Antichrist's voice in his head -- in his native tongue. It is very important to stop watching television now. Only evil will be broadcast from now on. Please pray to have the fortitude to withstand this most terrible of times. We need supernatural grace to avoid this minister of death.
The mark of the beast is a reality. It consists of a miniature microchip transponder (similar to the pet version). It is permanent, self-recharging, and satellite traceable. In 1984, a panel of physiologists (doctors) concluded that the two best places to insert this tracking device were in the back of the hand and in the forehead, just under the hairline. This falls precisely in line with Biblical prophecy found in Revelations 13:16. Anyone who takes this chip will most definitely go to hell. Jesus just told all of us about it in our warning. It is very serious business. Look for them very soon. A magnified view of the transponder chip is shown below.
There will be a man who takes over the Chair of Peter, or the Pope's seat in the Vatican. This will be an evil man aligned with the Antichrist. He will reverse many of the ancient teachings of Christ's Church in the name of progress. John Paul II will be driven into exile, but will remain the spiritual leader of the Remnant Church. We must follow what he teaches us. He is Christ's authorized representative on earth. The man to come will do nothing but lead souls to hell. Be very wary.

I am a 26 year-old Roman Catholic.
Ever since I found out about the heavenly warnings that urged our serious conversion, I have been researching and propagating precisely what our celestial family wants us to. There really is no question that we are now in the midst of the final battle between Christ and the Antichrist. As a matter of fact, John Paul II said just that in an address to the Eucharistic Congress in Philadelphia in 1976, shortly before he was elected Pope.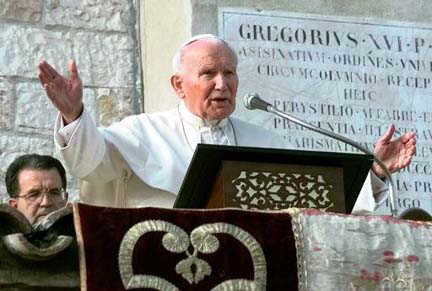 If you would like to understand precisely where I'm coming from, please read the article by Tracy Moran in Our Sunday Visitor, July 14, 1996 edition.

Two types of preparation are necessary -- one being much more important than the other.
Spiritual Preparation is our first priority. Without a humble recognition of our sins, we risk hell. Eternity is a very long time, so it seems like a good investment of resources to spend a little time getting ready for the afterlife. A good examination of conscience and sincere a sacramental confession will purify anyone's soul completely! After reconciling with God, we need to commune with Him. He told us how to do this in the Gospel of John, 6:49-57: receive Him in Holy Communion. Once we 'have life within us,' we can begin to pray, engaging in spiritual warfare. Two powerful weapons to use against Satan are meditation on the Stations of the Cross and the praying of the Seven Sorrows of the Virgin Mary.
Physical Preparation is also necessary, but not as pressing. If possible, store away some food, water, rosaries, scapulars, blankets, winter clothes, blessed candles/matches, devotional material (Bible, prayer books, etc.), and the like. When the time comes, though, our guardian angels will appear to us and guide us to safety -- whether that be Abraham's bosom after our martyrdom or a cave while we wait out the raging battles. We will be taken care of, but Jesus has asked us to prepare a little for ourselves.

If this site is loading too slowly, please see my mirror site.
Last Revised: 30 Mar 1998 21:59, Japan Standard Time.